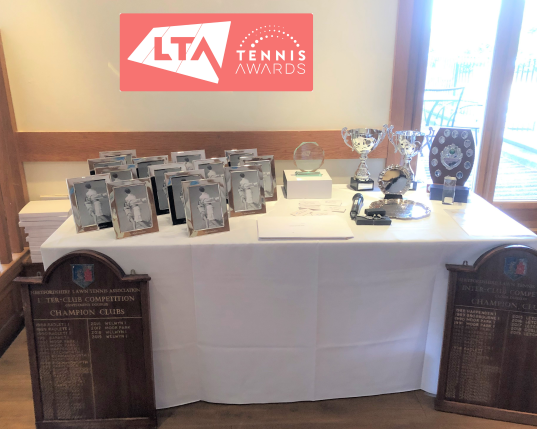 Herts Tennis Awards Afternoon Tea
After two years of not being able to hold our annual awards event it was a delight to be able to acknowledge and award our deserving winners for 2020 and 2021 at a special afternoon tea held at Tewin Bury Farm Hotel in Welwyn Garden City.  After a delicious afternoon tea, the awards were presented and it was wonderful to finally have the opportunity to cheer and to thank the dedicated clubs, players, coaches, officials and volunteers for their superb efforts in the supporting the county.
We also presented a Meritorious Service Award to Jennifer Keates.  This award is one of the highest honours given by the LTA.  It recognises the substantial contribution made by an individual over their lifetime to tennis at a County, Regional or National level.  It was a wonderful occasion to acknowledge Jennifer's hard work and the passion for the game that she has displayed over so many years, she is a most worthy recipient.
The nominations for the next round of LTA tennis awards open on the 1st of October, so please think about an outstanding club, coach or individual who goes above and beyond in promoting and supporting tennis within the county who you could nominate.  We will be publishing the link as soon as it's open but you can find out more here https://www.lta.org.uk/about-us/what-we-do/lta-tennis-awards/ 
The awards winners were:
LTA Tennis Awards 2020 – County Stage Winners
Lifetime Achievement                       Nick Birchall
Volunteer of the Year                        Ainsley Culbert
Young Person of the Year                 Sam and John Paul (joint winners)
Coach of the Year                               Ian Zellner
Club of the Year                                  Bishops Stortford LTC
Community Programme                   Parktennis
Disability Programme                       Suman Sharma
Official of the Year                             Jamie Broomfield
Competition of the Year                   Watford & District League
Additional County Awards and Presentations
Mark Seymour Award                        David Latter
Laing Award                                         Indianna Spink
County Colours                                    David Stevenson
County Colours                                    Mimi Bland
Performance Awards
Winning 15/15 at County Cup          Emily Arbuthnott
Performance of the Year                   Annabel Davis
Herts League
Ladies Champions                              Letchworth
Men's Champions                               Welwyn
Harris Cup
Ladies Champions                             Hoddesdon
Men's Champions                              Moor Park
LTA Tennis Awards 2021 winners:
Development Coach of the Year           Sam Pink
Performance Coach of the Year            Sam Price
Club of the Year                                       Cassiobury LTC
Volunteer of the Year                             Pam Stoten (Hoddesdon)
Education Award                                    Get Set 4 Tennis
Communities & Parks Award               Parktennis, Harpenden
Disability Award                                     Get Set 4 Tennis
Competition of the Year                        Herts Ladies Seniors Doubles League