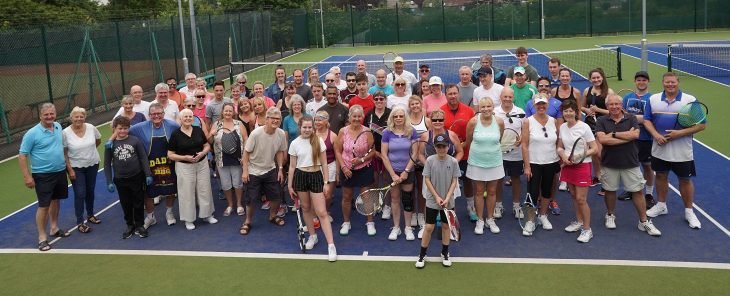 Datchworth League celebrates 50 years.
On Sunday 23rd June Welwyn Tennis Club held the Datchworth League 50th Birthday Celebration Tournament. The League Committee, headed by Maria Walker, organised the event in collaboration with the Welwyn Tennis Committee.  The whole day was a spectacular celebration befitting this amazing league. The event was watched by a very good crowd in lovely sunshine with both the BBQ and the afternoon cakes proving very popular.
The atmosphere was both friendly and competitive. All fixtures were played with complete fairness (hardly a disputed line call!!) but with a very competitive edge to them. A handicap system of scoring gave all abilities and ages (from 11 to 70 years!) a chance to shine. There were 6 round robin groups of 4 pairs, with 18 different Herts clubs in action. The top two pairs entered the afternoon tournament for the trophy, the bottom two for the plate.
Once all the fixtures were finished we completed the day with the nail-biting semis followed by the magnificent finals. The majority of spectators stayed until the end creating a very warm atmosphere for our finalists. The final results were:
Trophy Final – Welwyn 1 versus Wheathampstead 1 (Jane Kelly & Ben Giddens from Wheathampstead were the victors!)
Plate Final – St Margarets versus Knebworth (Jill Wilkins & Arnie Worton-Geer from St Margarets the victors!)
As well as having a glorious day (the sunshine came as ordered) we were able to raise over £700 for Cancer Research with the raffle provided by the Welwyn Tennis Club team.
Here's to the next 50 years!
(Terry Mackie)