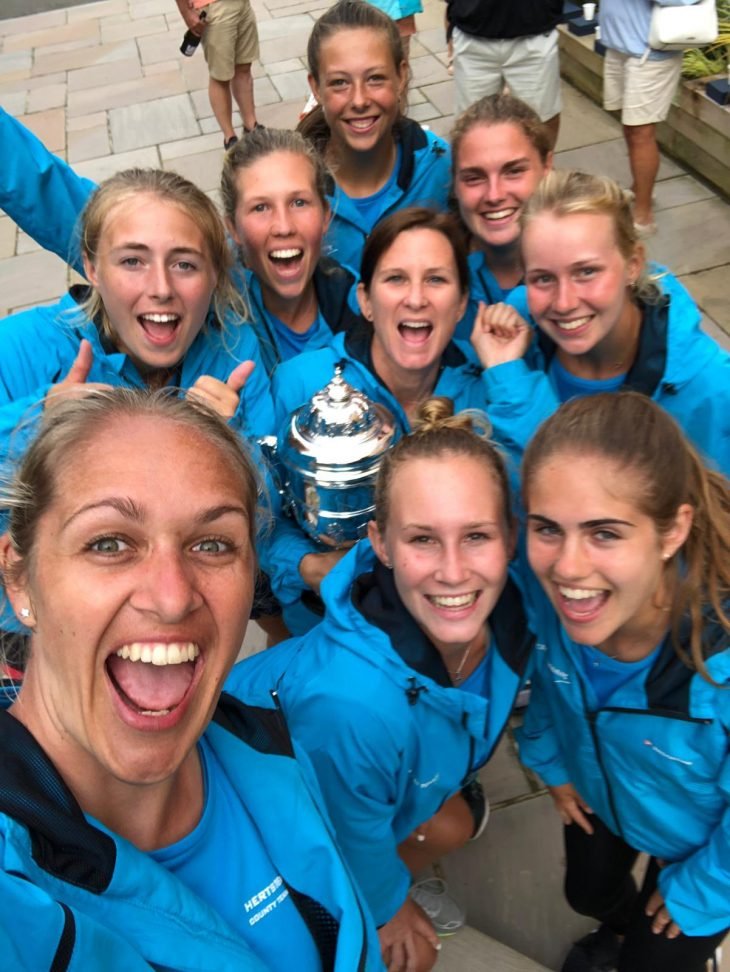 Herts Ladies are Summer County Cup Champions!
What an exciting week for our ladies at Devonshire Park in Eastbourne last week!  In a week of some exceptionally hot weather and some striking thunderstorms the women played some phenomenal tennis.  On day 1, the team set the pace for the week with a 7 – 2 victory over Yorkshire.  This continued with a victory over Surrey of 6 – 3 on day 2; 7 – 2 over Middlesex on day 3 and an 8 – 1 over Essex on day 4. The clean sweep was completed on Friday with a 7 – 0 win against Warwickshire.  What superstars and a special mention for Emily Arbuthnott who finished the week with 15/15 wins.
Our men also played some wonderful tennis last week although their matches were not quite so straight forward. They started the week playing a very strong Kent but unfortunately lost 3 – 6.  Tuesday saw them locked in a tough battle with Suffolk who eventually pipped them to the post 4 – 5. However fortune smiled on them on Wednesday and they had a win over South Wales  5 – 4.  On Thursday they played Essex although play had to be abandoned because of rain so the matches continued on Friday.  The men battled hard but finished with a 2 – 7 loss to Essex.  It all came down to the last matches of the day against Middlesex with both teams fighting to stay in Division 1. After an initial 0 – 1 loss the men came back fighting and won the next 5 rubbers meaning that they will be returning to Eastbourne too next year.  Well done guys!
Ladies: Amanda Elliott, Annabel, Emily Arbuthnott, Georgie Axon, Georgie Walker, Indi, Mimi Bland, Rachel and captain Sarah Donovan
Men: Charles Broom, David Stevenson, Ed Corrie, George Coupland, Jake Penny, James Wilkinson, Neil Bamford, Neil Roskilly and captain Jeff Wayne