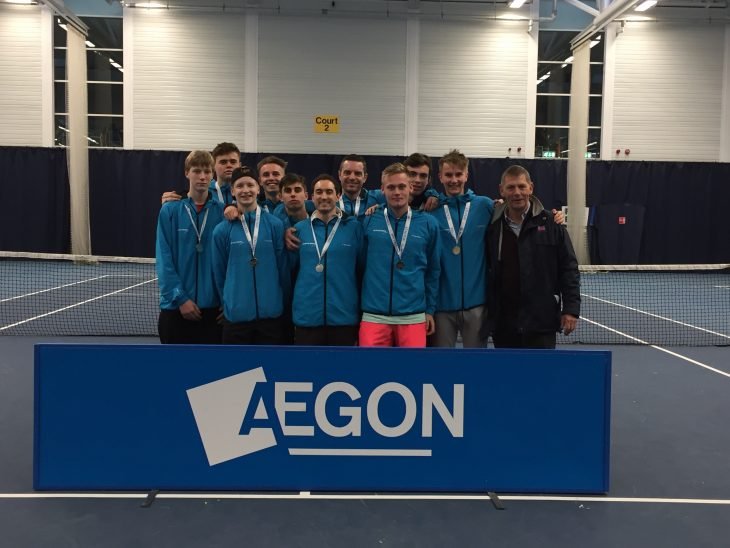 Herts 18U girls and boys teams headed down to Bath on the weekend of 24th – 26th February for Aegon County Cup. Day one saw the boys defeat Warwickshire 6-3 whilst the girls had a tough day against a very strong Surrey. They lost all their singles matches but dug in for the doubles with the first and third pairs winning to bring the tie to an eventual 7-2 loss.
On day two the girls faced Yorkshire bringing in a 5-4 win whilst the boys battled hard and went a very tight 5/4 down to Surrey. Every rubber was going to count for the final day when the boys faced Kent and the girls Middlesex. The girls battled very hard all weekend but eventually went down 2-6 to Middlesex. The boys pulled off a 5-1 win over Kent to stay in group 1 and come runners up nationally to Surrey.
What a great effort from everyone and we would like to thank our captains Jamie Evans, James Buswell, Sammie Williams and Ben Roberts-Law and the players Finn Bass, Matthew Carroll, Louis Gibbard, Daniel Martin, Jake Penny, James Wilkinson, David Stevenson and Joshua Rose and Mini Bland, Rachel Cranley, Amelia Campbell, Rosie Carr, Alex Hildreth, Danielle Latter, Bella Moen and Indi Spink for their great effort and impeccable commitment, work ethic and representation of Hertfordshire.