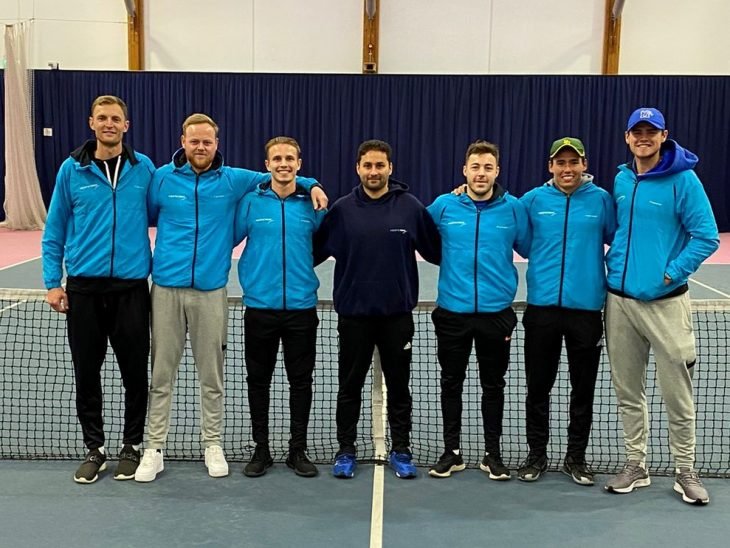 Herts Men secure promotion to Group 1 at the Winter County Cup!
It was wonderful to see the Herts Men's and Ladies teams once again on court at the Winter County Cup this year after last year's hiatus due to Covid.
The teams were both in Group 2a in Nottingham, the ladies at Nottingham Tennis Centre and the men at Nottingham Trent.  The ladies started their campaign in fine form with a 9-0 win over Essex – way to go ladies!  The following 2 days were a little more challenging and unfortunately the ladies suffered a 4-5 defeat to Nottinghamshire on Saturday and a 2-6 defeat to Yorkshire on Sunday giving them a 3rd place finish in the group.  The girls played hard and it was lovely to see a number of young players making their Ladies team debut. Well done and thank you to the team: Emily Arbuthnott, Erin, Jess, Mafalda, Rachel Cranley, Rosie Carr, Tatiana Zheleznyak and Captain Alissa Ayling.
The men had a super charged weekend winning all their matches!  On Friday they met Middlesex and won the match 6-3.  Saturday saw them play Derbyshire winning the match 5-4 and this was followed by a 3rd victory on Sunday over Surrey 5-3.  This superb effort gave the men a top of the table finish and promotion into Group 1 – well done guys!  Many thanks to the team: Charles Broom, Dan Clegg, George Coupland, Lewis Evans, David Stevenson, James Wilkinson and Captain Neil Bamford.