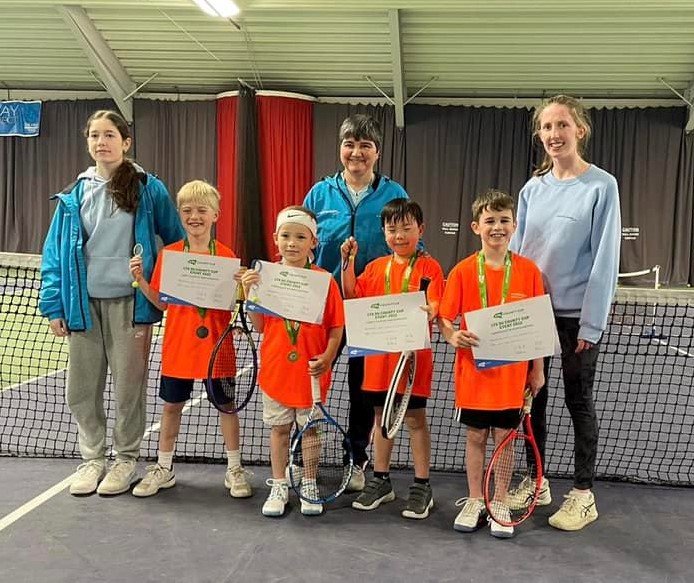 March County Cup round up
March has been a busy month for our County Cup teams with matches for our Under 18s, Under 8's and U9's.  After 2 years of limited play it is good to be back to having a normal schedule.
U18s
The U18s started the County Cup year at the beginning of the month over the weekend of the 4th  – 6th.  The girls were playing in Division 1 in Bath and their first match was against Middlesex.  Unfortunately they were beaten 8-1 by Middlesex who went on to be the overall group winners.  Saturday was a much more successful day with Herts having a 9-0 victory over Sussex.  With all to play for on Sunday, Herts battled hard against Yorkshire but despite a valiant effort they finished the match 2-5 giving them a 3rd place finish in the group.
The boys were playing in Division 2a and were based in Redbridge.  They started their campaign with an excellent 6-3 win over North of Scotland and continued their winning streak on Saturday with a 9-0 victory over Sussex.  On Sunday like the girls team they played Yorkshire and had the same 2-5 score as the girls.  With their 2 wins, the boys finished as group runners up.
Well done to both our U18 teams and thank you for your hard work and dedication.
Teams were: Boys – Albert, Ben, Enrico, Fabio, Freddie, Ivan, Ryan and Zak.  Coaches – Dave Airey and Ben Roberts- Law
Girls – Ava, Dina, Erin, Georgiana, Jess, Marelie, Sophia and Youka.  Coaches – Jamie Fallis and Sammie Williams
U8s
Our U8 team teams played in the very first County Cup event on the 13th of March in Oxfordshire.  The players were very excited and pleased to be representing their county.  The boys showed what they're made of by winning all their matches 10-0 against Berkshire, Gloucestershire and Oxfordshire, impressive stuff!
The girls followed the boys in the afternoon.  They worked hard in their first match but were unfortunately pipped to the post by Berkshire who won 8-2.  The following 2 matches were very successful with 9-1 wins over both Gloucestershire and Oxfordshire earning them the silver medal!
Well done to our fantastic young players
Teams were: Boys – Harry, James, Roc and Thomas,
Girls – Amelie, Giselle, Kim, Yoyo
Coaches – Monica Becerra and Charlotte
Under 9s
The Under 9 teams played in the County Cup qualies held on the 20th March in Gloucestershire.  Both teams won all their matches and are both through to the Finals which will be held on the 24th of April. All the players can be very proud of the energy, teamwork and tennis skills they displayed.
Teams were: Boys – George, Leo, Louis, Noah, Rufus and coach Natalia Ilkow
Girls – Amelie, Ivy, Quinn, Theresa, Zosia and coach Sarah Jackson
Good luck to our teams for the Finals!
| | | | |
| --- | --- | --- | --- |
| Boys | | Girls | |
| Herts vs Oxfordshire | 6-0 | Herts vs Oxfordshire | 4-2 |
| Herts vs Gloucestershire | 4-2 | Herts vs Gloucestershire | 4-2 |
| Herts vs Buckinghamshire | 4-2 | Herts vs Buckinghamshire | 5-1 |
| Herts vs Sth Wales | 5-1 | Herts vs Sth Wales | 6-0 |