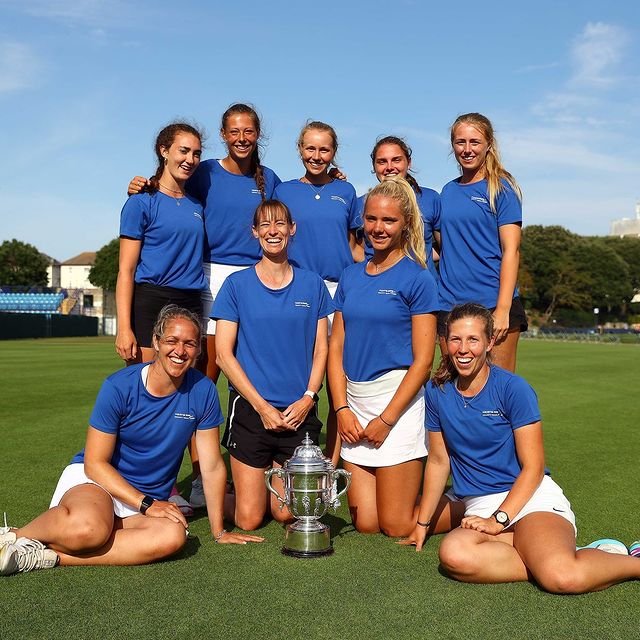 Herts Ladies crowned Summer County Cup Winners!
After a prolonged break we were delighted to see our Herts Men's and Ladies teams  back in action at Devonshire Park, Eastbourne for the 125th Summer County Cup.
A week of lovely sunshine saw some wonderful tennis from our Ladies team with some big winning margins.  On Monday they played Yorkshire winning their match 8-1; Tuesday's match was against Middlesex and finished with another big 8-1 win.  On Wednesday they played Leicestershire taking the match again 8-1!  Thursday was a little more challenging against Hampshire & IOW but the ladies still came away with a very respectable 5-4 win. On the final day the ladies wrapped up their super successful week with a 6-3 victory over Surrey. Well done to our ladies not only for their phenomenal effort this year but also for retaining the title they won in 2019! Our awesome ladies are: Alissa Ayling (Cap), Amanda Elliott, Annabel Davis, Catherine, Emily Arbuthnott, Georgie Walker, Indi Spink, Jessica and Mimi Bland.
There was some fabulous tennis from our men as well although they didn't have such an easy time of it.  Their first match was against Kent and unfortunately Herts came away with a 0-9 loss.  The men fought back over the next two days with 5-4 wins over Surrey on Tuesday and Essex on Wednesday.  Thursday was the match against East of Scotland, the men fought valiantly, playing lots of tie breaks but sadly they were pipped to the post 4-5.  With all to play for on Friday, the men had a very successful 8-1 win over Suffolk cementing their Division 1 status once again. Well done to our men, we are very proud of you!  Our fabulous men are: David Stevenson, Ed Corrie, Hamid Hejazi, James Wilkinson, Josh Rose, Neil Bamford (Cap), Neil Roskilly and Oliver.
We will hopefully! look forward to seeing both our teams competing in Eastbourne once again next year.
Main photo courtesy of the LTA