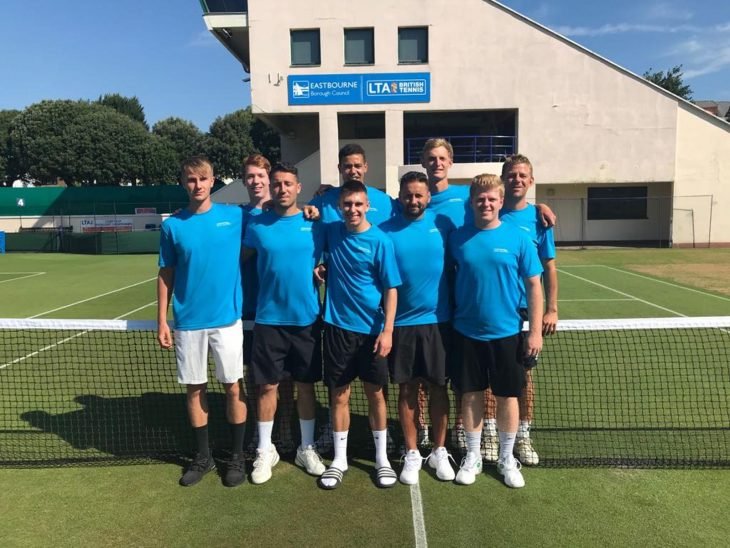 Herts Men and Ladies at the Summer County Cup in Eastbourne
The week of 23rd – 27th July saw both our Men's and Ladies' teams playing in the Summer County Cup at Devonshire Park in Eastbourne. In a week of beautiful hot and sunny weather our teams played some thrilling tennis and showed true Herts spirit.
On day 1 the men and ladies both started well with excellent wins over Middlesex 7-2 (men) and Norfolk 8-1 (ladies).  Day 2 was a tougher day with the men losing  3-6 to Suffolk and the ladies narrowly losing to Essex 4-5. Day 3 on Wednesday saw our men turn things round with a convincing 7-2 win over Cambridgeshire, our ladies battled hard but unfortunately narrowly lost 4-5 to Surrey.  Day 4 saw wins for both our teams, the men beating Derbyshire and 5-4 and the ladies beating Warwickshire 7-2.  On the final day our ladies came through with a 6-3 win over Kent and an overall 3rd placing.  Our men defending the title played Essex and also won 6-3 ending up in overall 3rd position too.
A huge well done to our teams and special mentions to Neil Bamford for winning 15 out of 15 games and to David Rice, Emily Arbuthnott and Amanda Elliott for winning 14 out of 15 games.
Ladies, Alissa Ayling (C), Emily Arbuthnott, Mimi Bland, Jennifer Brown, Mollie Crouch, Amanda Elliott, Anna Popescu, Indi Spink and Georgie Walker.
Men, Neil Bamford (acting Captain), George Coupland, Ben Davis, Jake Munns, Jake Penny, David Rice, Josh Rose, Lewis Roskilly and Neil Roskilly.