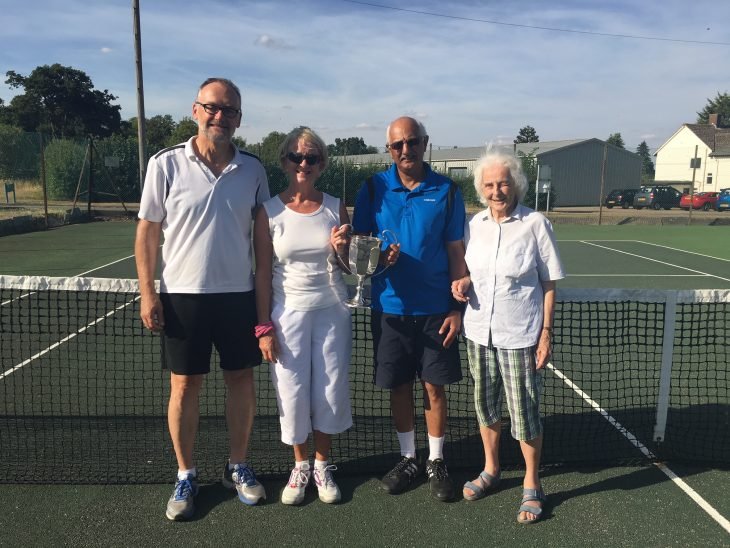 Rothamsted Tennis Club celebrates its centenary
The 4th of August 2018 saw the 100th birthday celebrations for Rothamsted Tennis Club held at the Pavilion in the grounds of Rothamsted Research, Harpenden and to which all current and previous members of the Club were invited. Under glorious sunshine and with hot temperatures the celebration began with the final of the Russell Cup at 1.30 pm. This event is the oldest of three mixed doubles tournaments, being first played in 1921, when the Russell Challenge Cup was presented to the club by the then Director of the Rothamsted Experimental Station, E. John Russell and his wife. This year the cup was won by Ms Biddy Sweeting and Professor Naresh Magan (Cranfield University). It was presented by the President and oldest member of the club, Ms Marion Gratwick and Professor Achim Dobermann (current Director and CEO of Rothamsted Research).
The final was then followed by a fun American, mixed doubles tournament, played over four rounds of four games, two played with and two against partners. The male and female players winning the most games were awarded the Magan Cup donated to the club by Professor Naresh Magan. The winners Ms Lynne Bandy and Mr Richard Hull were also presented with Centenary Commemorative Cups to mark the club's special birthday. The tennis was followed by a delicious hog roast and selection of desserts, as well as birthday cake and prosecco. The event was attended by around 60 people, who enjoyed a great day, not only playing tennis, but catching up with old friends over a few drinks. We were also joined by Honorary Herts LTA Secretary Helen Elliott and her husband John. I would like to thank past and present members for their continued support and of course the committee for all their hard work in helping to organise this event.
Dr Mark Wilkinson (Chairman)