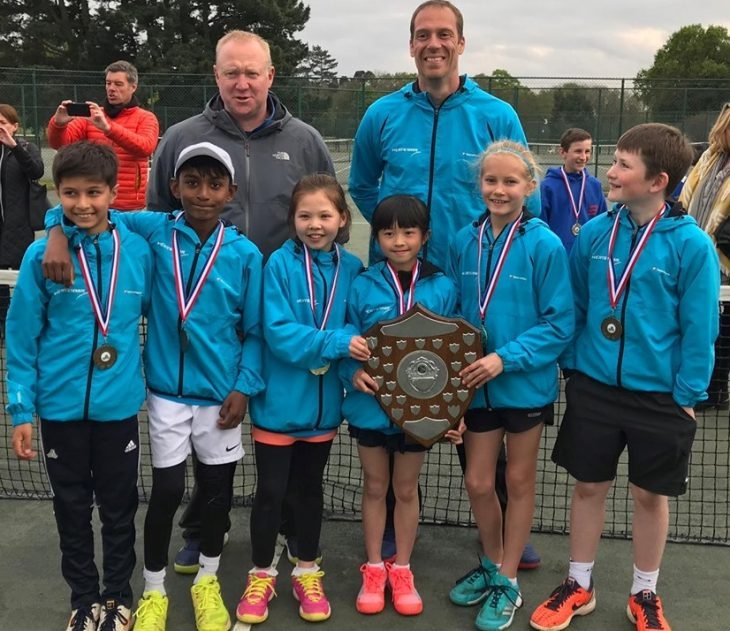 Hertfordshire enjoy a successful weekend of tennis.
The bank holiday weekend was a busy one for Hertfordshire teams with both the Lionel Cox tournament and the U14 County Cup Qualies taking place.
The 10 county Lionel Cox tournament is played annually and takes place at Queenswood School.  Teams in the 9U, 10U and 12U age groups compete against teams from the 9 other counties.  The teams are – Bedfordshire, Berkshire, Buckinghamshire, Cambridgeshire, Essex, Hertfordshire, Norfolk, Northamptonshire, Oxfordshire and Suffolk. Our Lionel Cox teams had a wonderful weekend of matches and were delighted to be crowned champions for the second year running, well done to all our wonderful players and coaches! Adam, Alexander, Ava, Brandon, Enrico, Erika, Erin, Gabby, Jody, Julia, Kaaviyan, Marelie, Michaela, Pavana, Rhys, Sophia, Sophie, Stefan and Theo; David Lawlor, Andre Mouskides, Tony Staley, Sammie Willliams, Ben Wilsher and Ian Zellner.  The scores were as follows:
9U boys Herts vs. Northants 2-1, Berks 3-0, Oxon 3-0, Norfolk 3-0, Cambs 2-1
9U girls Herts vs. Suffolk 2-1, Beds 3-0, Berks 3-0, Norfolk 3-0, Essex 1-2
10U boys Herts vs. Cambs 2-1, Suffolk 1-2, Northants 3-0, Oxon 3-0, Bucks 3-0
10U girls Herts vs Norfolk 3-0, Oxon 3-0, Berks 3-0, Essex 3-0, Beds 3-0
12U boys Herts vs, Norfolk 3-0, Cambs 3-0, Bucks 3-0, Suffolk 3-0, Essex 3-0
12U girls Herts vs, Suffolk 3-0, Bucks 3-0, Northants 3-0, Norfolk 3-0, Oxon 2-1
Our 14U teams were also in action at the County Cup qualies.  The boys who were in Boston had excellent wins over Cambridgeshire 5-1 and Bedfordshire 5-1.  They met a very strong North of Scotland team and although they put up a brave fight, they finished with a 1-5 score however their good work meant that they still came 2nd in their group – well done boys! Thanks to our players Albert, Cian, Freddie, Ivan, Oliver, Sean and coaches Chris Martin and Greg Quesnel.
The girls who were playing in Reading had superb wins over Oxfordshire 6-0, Wiltshire 6-0 and Suffolk 4-2 meaning that they finished top of the group and go through to the finals in 2 weeks.  Well done and good luck girls! Thanks to players Dascha, Hannah, Hephzibah, Jessica, Mafalda, Sofie and coaches Megan Godfrey-Evans and Teresa Lilley.