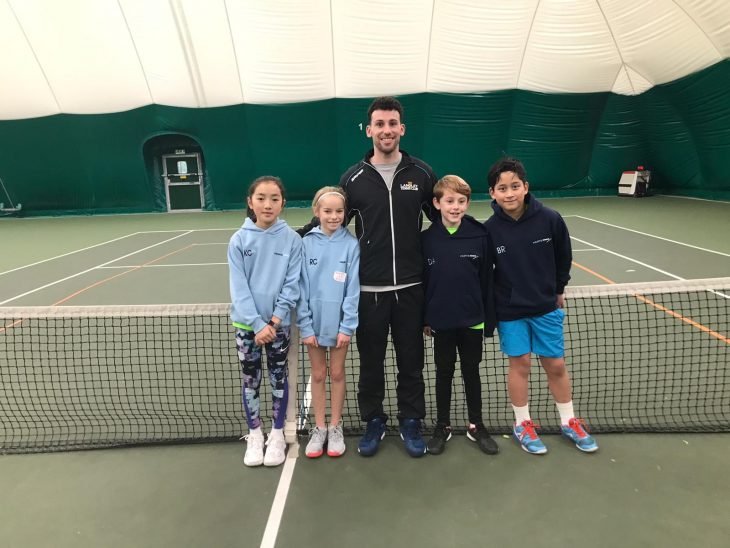 Mini Orange Festival and 12 Counties successes for Herts Juniors
Big congratulations to our U9 Mini Orange team.  Herts players travelled to Corby to compete in the annual Kevin Hoey memorial Mini Orange Festival of tennis on Saturday and were thrilled to come out as winners.  With big 4-0 wins over Yorkshire and Nottinghamshire and a 2-2 draw with Essex, Herts faced Northants in the semi-final beating them 3-1. The final was against Cambridgeshire and after 4 matches the score was 2-2 and 5-5 in sets won so a very exciting deciding tie-break took place with Herts winning 10-4!  Well done to our amazing players Brandon, Daniel, Katie and Rose and their captain Andre Mouskides.
Our 12 Counties teams have been doing exceptionally well too.  Our U10 teams played in December in Corby and both boys and girls topped Division 2a with 4-0 scores in all their matches against Norfolk, Hereford & Worcester and Cheshire .  Similarly the 14U teams played in January and again both boys and girls topped Division 2a. The boys had victories over Norfolk 4-0, Hereford & Worcester 3-1 and Cheshire 3-1; the girls won all their matches 4-0 over the same counties. Well done to our U10 players, Kaaviyan, Pavana, Rhys, Spencer, Erika, Gabby, Michaela, Xanthe and coach Chris Martin; and our U14's Albert, Freddie, Ryan, Sean, Catherine, Dascha, Jessica, Mafalda and coach James Thomas.  This means that so far all our age groups who have played will be playing in Division 1 next season; the 18U teams play this weekend so we wish them the very best of luck. Go Herts!